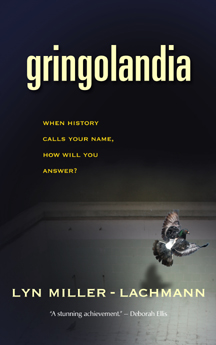 Gringolandia
By Lyn Miller-Lachmann
Curbstone Press, 2009. 290 pages. $16.95 (Hardcover). ISBN 978-1-931896-49-8.
Grades 9 and up
English with some Spanish
Ever since the night his father was captured by Chilean soldiers, seventeen-year-old Daniel Aguilar's life has been painful. Although five years since the incident, he still believes he is responsible for his father's arrest and subsequent imprisonment and torture. Daniel, his mother, and his younger sister Tina have sought asylum in the United States, all the while fighting for the release of his father. Eventually Mr. Aguilar is released from prison and sent to the U.S. (Gringolandia as he calls it). Unfortunately, his years of abuse have left him broken, inside and out. It is up to Dan and his gringa girlfriend to help Mr. Aguilar overcome depression, alcohol abuse, and suicidal thoughts in order to return to Chile and continue as an activist to free other political hostages and prisoners. Told with raw honesty, Miller-Lachmann's gritty novel grabs readers from the first word and holds them hostage until the very last. This poignant novel and essential purchase for library collections introduces young adults to a horrific period in history, finally giving a voice to those long silenced.
Highly Recommended.
Naidoo, J. C. (2009). Gringolandia. Written by Lyn Miller-Lachmann. REFORMA Newsletter, 27 (1/2), 22.