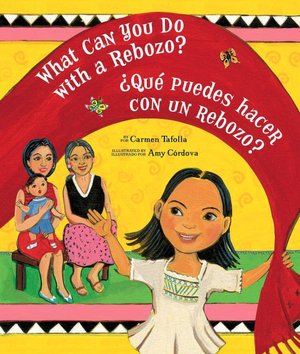 What Can You Do with a Rebozo?
By Carmen Tafolla illustrated by Amy Còrdova
Tricycle Press, 2008. Unpaged. $14.95 (Hardcover). ISBN 978-1-58246-220-2.
Grades PreK-2
English with some Spanish
What can you do with a Rebozo?! Through simple text and vibrant acrylic illustrations, readers follow a young Latina as she introduces them to the many, varied creative uses for a rebozo ranging from a bandage for a puppy to a super hero cape to a beautiful hair ornament. A brief author's note on the history of rebozos along with discussion questions will be helpful to teachers and librarians as they encourage readers to use their own imagination to discover what they can do with a rebozo.
Recommended for young children
Naidoo, J. C. (2008). What Can You Do with a Rebozo? Written by Carmen Tafolla. Illus. by Amy Còrdova. REFORMA Newsletter, 26 (1/2), 27.