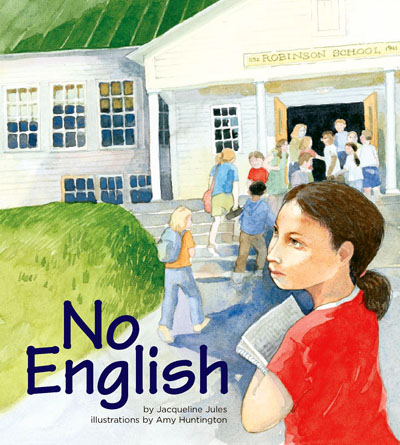 No English
By Jacqueline Jules, illustrated by Amy Huntington
Mitten Press, 2007. Unpaged. $17.95 (Hardcover). ISBN 978-1-58726-474-0.
Grades 1-4
English with some Spanish
An increasing number of Spanish-speaking and immigrant children are enrolled in preschool and elementary schools around the country. Many of these children feel alienated from their English-speaking classmates because of language barriers. This sensitive book describes the confusing experiences of Blanca, a second-grade Argentinean girl, as she navigates her new English-only classroom. Through the kindness of one of her classmates, Blanca eventually feels welcomed in her school. Although the book is a little contrived, educators will find it a useful discussion starter in schools with English language learners. An accompanying website also provides classroom activities.
Recommended.
Naidoo, J. C. (2008). No English. Written by Jacqueline Jules. Illus. by Amy Huntington. REFORMA Newsletter, 26 (1/2), 26.